For equestrian enthusiasts, the World Equestrian Games (WEG) is the pinnacle of all equestrian activity; more prestigious than even the Olympics.
This year, the World Equestrian Games is heading to Tryon, North Carolina from September 11 to September 23 and the equestrian world is already getting excited for the crème de le crème hailing from over 70 different countries to come together, compete, and show us what they're made of.
Opened in 2014, The Tryon International Equestrian Center (TIEC) will play host to the biggest equestrian stage in the world – and what better choice of venue could there be?
TIEC boasts top-class facilities for competitors and spectators…and it's not bad for the horses, either! No expense was spared in the building of the state-of-the-art venue which features no less than ten arenas and a stadium seating 6000 people, as well as elevated and shaded viewing decks, restaurants, equestrian shopping, VIP hospitality areas and loads more.  Or those who can't bear to tear themselves away from the action for a moment, there's onsite accommodation available and with 1000 permanent stables, it's essentially one of the biggest and best horse hotels in the world too!
WEG happens only once every four years and the equestrian spectacle brings the best athletes (both human and equine) together to compete in not only the three Olympic disciplines of Dressage, Showjumping and Eventing, but also Vaulting, Driving, Endurance, Reining and Para-Dressage.
With that much action taking place over two weeks, it can be pretty difficult to decide which events you want to spend your hard-earned cash on.
Tickets start from as little as $20 but go all the way up to $1380, so there really is something to suit all tastes and budgets. The best thing about WEG?
Because it's such a huge event (it attracts up to 500 000 visitors!), there's something for everyone. Yep, we mean everyone – whether you're an equestrian enthusiast, a casual observer who enjoys horses from time to time or someone who has never touched a horse before in your life, the World Cup of Equestrianism won't fail to impress.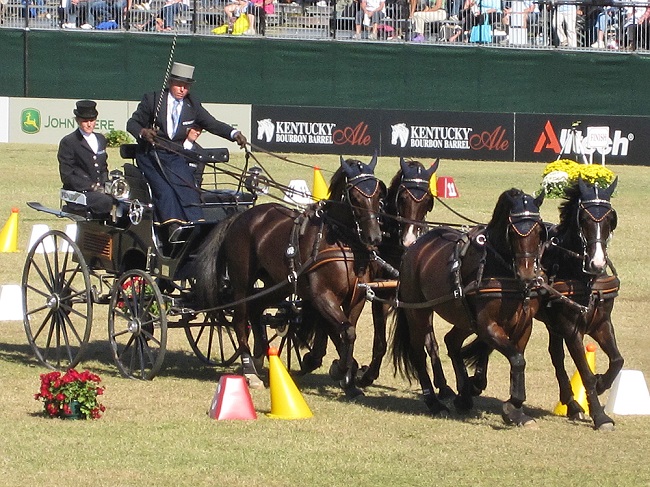 What events should you watch out for? Showjumping is always one of the most popular with spectators, and it's a great option for those who want to bring non-horsey family members along. It's easy to follow, is adrenaline-packed and much faster-paced than many of the other disciplines on offer. Head over on September 23rd for the individual finals; some would argue that it's the most nail-biting event of the entire two weeks of WEG.
Vaulting is another sport that almost everyone can appreciate; as if gymnastics and horseriding weren't hard enough by themselves, this event is an acrobatic-inspired combination of the two. September 20th is the perfect day to take in some vaulting, featuring both individual and team events as well as a freestyle. The Dressage Freestyle on Sunday September 16 is a truly magnificent display too. Only the top-ranked horse and rider combinations will get to take part in a 'dressage to music' performance to decide the medallists.
Finally, for those who are into extreme sports and love horseracing, Eventing would be right up your alley. The triathlon of equestrian sports is the ultimate test of both horse and rider in terms of fitness, bravery, skill and endurance.